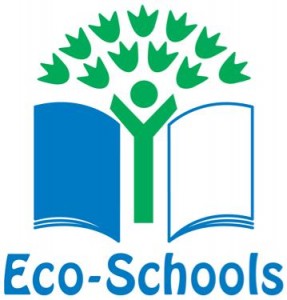 We are an ECO School
The ECO team have worked extremely hard to achieve Friezland`s 3nd Green ECO flag, and this was launched in November 2015. The ECO flag is in recognition for all the ECO work we have done in the school.
To achieve and maintain our ECO status, it is important that;
The whole school is involved.
We care for our grounds and encourage biodiversity.
We organise litter picks, grow plants and vegetables.
We save energy and water.  We walk and cycle to school.
We eat healthily and do lots of exercise.
We reuse, recycle, or compost.
We are a Fairtrade school.
Our ECO team is made up of ECO reps from each class in school from Year 1 to year 6, the Head Teacher, Teachers, Support Staff, School Governor, Member of the local  Community, and Parents. We meet every half term, the children bring their own ECO ideas to each meeting and we plan ECO activities for the whole school. Some examples of the ECO activities & work we have achieved since Sept 2012 are listed below.
New ECO Activities
We now have a recycling bin on the corridor for used carrier bags and plastic bottles. In the back garden we  have a water butt to collect rain water to use on our plants. We have successfully grown our own potatoes, beans, carrots & squash which we will be harvesting shortly and eating in school. The garden is attracting lots of wildlife with our bird boxes, bug hotels, and wild flowers. We also have a new bat box hoping to attract bats this year.
Formal Environmental Review
The ECO team helped to complete a review of our ECO work in school and we drew up an action plan for this year.
Energy
We have launched a save Energy month during November. After an ECO assembly the children all wrote pledges to promise to save energy at school and home. We are switching off lights when not in use , switching off all electrical items on standby at the end of the day, saving water by turning off taps, turning down heating when it's not needed. The ECO reps are reading the energy meters each week to work out how much money we can save and being our ECO monitors to remind everyone to SAVE ENERGY.
Recycling / Waste Minimisation
In May for WASTE WEEK we are planning to turn our waste into art. The children will use waste materials to build models to demonstrate one way that waste can be recycled.
Recycling is very important at Friezland to reduce our waste as well. We encourage all adults and children to recycle:
Paper, card,

Plastic,

All food waste (we are in the Food loop which sends all our food waste to make compost)

Ink cartridges,

 Old clothes (Clothes line appeal which makes money for school termly)

Boxes, tubes, plastic pots all are used for junk modelling in school.

School uniforms in good condition are resold at Fairs.

We are having ambient air driers in the toilets to reduce paper towel waste.
ECO reps are responsible for ensuring recycling is taking place in their own classrooms and they collect it at the end of each day.
Water
We have a water Butt in the back garden which we collect rain water in to water our plants. ECO reps ensure all taps are turned off and we don't waste water.
Transport
We encourage children to walk to school whenever possible and we hold termly Walk to School Weeks which reward children with certificates if they walk to school most of the week. We also recently installed bike racks to accommodate children who wish to cycle to school.
Healthy Living
We are also a Healthy Eating School and we have the Platinum Tooth Friendly Award. We encourage healthy eating and give rewards for eating balanced healthy lunches.
We have a healthy Munch Trolley each morning serving Healthy sugar free snacks.
Biodiversity & School Grounds
The ECO team play a large part in the school grounds. This year we will  plant, seeds, vegetables & flowers.  
The team have helped to put up bird boxes, bat boxes, feeders, minibeast homes, and they are responsible for feeding our birds by topping up feeders.
Global Perspective
Fairtrade
We achieved Fairtrade School Status in July 2012 we are very proud to be only 1 of 3 Fairtrade Primary schools in Oldham. The ECO/ Fairtrade team have held several Fairtrade awareness events this year.
Children have also been learning about the benefits of Fairtrade during assemblies and in their own classes.
We also support a charity called For the Love of Learning in the Gambia which helps children in Gambia to attend schools; it provides uniforms, books, lunches etc. for the children who may otherwise not be able to attend school. Over the last year the ECO team has held Fairtrade Raffles at our Fairtrade events, and sent the money raised to the Project.
Our ECO work at Friezland is vital to encourage our children to look after their Future and the Future of their children. We are very proud to be such an active ECO and FAIR TRADE PRIMARY SCHOOL.