Health Champions
Our Health Champions will be promoting this terms health message, Happy Me, within school. They will be organising a number of activities for the children to participate in and promoting them during assembly time. We will also be celebrating the International Day of Happiness on 20th March. 
International Day of Happiness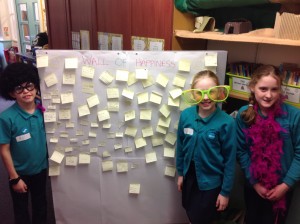 As part of the International day of Happiness, our schools Health Champions planned a 'pass a smile' assembly, created a 'Wall of Happiness' and asked everybody to wear an extra item to school that would make people smile. Every child in the school wrote a message for the 'wall' to show what makes us happy, then everybody in the school joined hands to pass on a smile.