Competitions, Leagues and Festivals
Sports News
School Games Award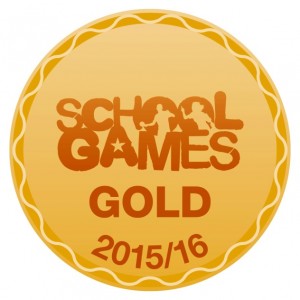 We are delighted to announce that we have maintained our Gold School Games Mark Award for the 3rd year. This is awarded for our contribution to school PE and Sport. Well done to everyone involved!
Swimming
The friezland girls' and boys' swimming team competed in the Saddleworth Swimming League finals on Tuesday 25th April. All swam fantastically well as individuals and also as in relay teams. The girls placed 2nd and boys placed 3rd.
Tag-Rugby
Well done Team Friezland for representing Oldham at the Greater Manchester Games. We just missed out on qualifying for the semifinals, however, the team should all be proud of their fantastic efforts. Thank you to Mr Jagger and Mr Cookson for helping to coach the team and dedicate their own time and to the parents who came to support us on the day.
Health Champions 2017
Congratulations to Martha Wood and Elizabeth Cassidy-Davies  (Year 4) who have been selected to be our Friezland Health Champions.  They will take part in a number of training sessions over the next few terms, delivered by Oldham School Sports Partnership in affiliation with other providers, to compile an action plan and deliver health messages and disseminate training back to staff and pupils at school.  A big thank you to Mr Freeman, who will be supporting our pupils to do this.
Dance
Well done to our Dance troop who competed against 30 other schools in the Oldham Borough Dance Competition at Oldham Academy North on Tuesday 28th March 2017.  They looked and acted the part, performing a strong routine.  Thank you to Mrs Adams for organising the choreography and kit and to Mrs Moores and a number of our parents for accompanying the team on the day.
Netball
Friezland played their final league match v the very strong top of the league team – St Paul's, at Hathershaw on Wednesday evening. There was some outstanding netball played by both teams but St Paul's had the upper hand, beating us 4-21.
The Friezland team should not only be incredibly proud of their achievements but also for the way that they never failed to demonstrate sportsmanship, winning them the Oldham Primary School Netball League's 'Fair play award' for their excellent attitude through every league match.
Netball News – In our last game if the season, we drew 7 – 7 against St Mary's at Hathershaw School. The match turned out to be a gripping game and all players were exceptional. Well done to the 2017 Friezland Netball Team. League results are to be released soon so watch this space to see how we placed.
Swimming
On Tuesday 28th March, the Saddleworth Swimming League commenced.  Friezland Girls' and Boys' team topped the table and qualified for the finals on Tuesday 25th April 2017. Watch this space!
 On Tuesday 23rd March our year 5 and 4 swimming team competed in the Greater Manchester Games qualifier, held at Oldham baths. We are very proud of our team who achieved 6 second place positions and 2 third place positions.
Cheerleading
The Cheerleading club has been working hard this half-term to prepare a routine in order to compete against other schools in Oldham in a borough competition.  This competition took place on Tuesday 8th March at The Radclyffe School.
Netball
The Netball team went to Hulme Grammar School to play in the Netball League on Thursday 25th January.
Well done to the team who achieved the following results.
Hulme 20-0 Friezland
St Edward's  9-8 Friezland
On Wednesday 11th January the team achieved the following results.
St Anne's Lydgate 3-4 Friezland
Firwood Manor 10-4 Friezland
Rachel and Alyssia got 'player's player' and Rachel and Sophie won 'Umpire's Player'.
Our Netball Team played in the Oldham Primary Schools Netball League at Hulme Grammar School. Well done to team Friezland who played well and achieved the following results.
Dobcross 13 V 5 Friezland
St Chads 7 V 4 Friezland
Football
Pupils participated in a 5-a-side intra schools' football tournament on Thursday 29th Sept at Chapel Road. The competition was organised by Latics.
We played St Mary's Failsworth who were a very strong side and beat us 7-0 in the first game. We didn't let our heads go down though and came through to win 2-0 against Richmond Primary. Our Centre-Half, Edward Shaw, scored 2 goals past their very strong goalkeeper and Brodie managed to keep a clean sheet for the Friezland team. Our confidence was building by the third match and we made it much tougher for St Mary's to score their 3 goals. Lewis managed to ping one past the goalie too, making it 3-1 to them. Our fourth and final game saw us facing Richmond again with William and Thomas scoring the only two goals of the game. Well done to the Friezland team, especially our 'Man of the Comp' Edward (Year 5).
Netball
Wednesday 28th September saw the start of the Oldham Primary Schools' Netball League. The Friezland Hi-5 team travelled to Hulme Sports Hall where they played their first match against Mills Hill and winning it 11-5. Well done to Rachel Flanagan (Year 6) for winning the Players' Player award. Our final opposition of the day was Knowsley. They had a fantastic shooter, who quickly got them ahead and after the second quarter, the score was 7-0 but by the final quarter, Friezland managed to close the gap bringing the final score to 10-7 to Knowsley.
New to 2016. Friezland has entered the Oldham Schools' Primary Netball League which commences on Wednesday 28th September.
Match Meeting

Date

Matches

Match times

1

Wednesday 28th September 2016

Friezland v Mills Hill

Friezland v Knowsley

4:00 p.m.

5:00 p.m.

2

Wednesday 9th November 2016

Friezland v Dobcross

Friezland v St Chad's

4:00 p.m.

4:30 p.m.

3

Wednesday 14th December 2017

Friezland v St Paul's

Friezland v St Mary's Greenfield

4:30 p.m.

5:00 p.m.

4

Wednesday 11th January 2017

Friezland v St Anne's Lydgate

Friezland v Firwood Manor

4:00 p.m.

5:00 p.m.

5

Wednesday 25th January 2017

Friezland v Hulme Prep

Friezland v St Edward's

4:00 p.m.

5:00 p.m.
Spring and Summer Term 2016
Kwik Cricket
Well done to the Kwik – cricket team. They played in the Norman Heap Memorial Trophy competition at Greenfield Cricket Club. Sunday 10th July 2016. They played against Knowsley, St Chad's and Mayfield.  We just missed out on a place in the semi-final.
Girls' Football
Girls' Football at Saddleworth Cluster competition at Saddleworth Secondary School in the Spring Term 2016. The team came 3rd overall and can't wait for the next event!
Tag-Rugby
Class 3 took part in a series of 5 coaching sessions from Huddersfield Giants in the Spring Term. We learnt some great skills and received 6 match balls to use in our competitions.
Sports Leaders Transition Event
Year 6 Friezland Sports Leaders were invited to take part in a Leadership transition event with current Year 7′s at Saddleworth School. All the leaders shares their skills and planned their own events.