Dovestone
Learning
Partnership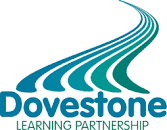 'Stronger Together For Our Pupils'
Our vision for the partnership is of, 'a strong family of inspiring schools that serve our local community and contribute fully to the provision of education in the area and collaborate with other partners to achieve common goals. Leading the way in education for Oldham's children and young people, enabling them to enjoy learning and achieve well as individuals'.
The Dovestone Learning Partnership (DLP) was officially created on 1st October 2017 and is Oldham's first shared Co-operative Trust. Made up of nine schools across Saddleworth and Lees, we have joined together to form this partnership, as a collaborative force to drive standards and aspirations for our young people. We aim to work together to improve opportunities for our children, families and our communities.
After consulting with parents, children, staff, governors and the community, Delph Primary School, Diggle Primary School and Knowsley Junior School set up the charitable trust. Christ Church C of E Primary, in Denshaw; Saddleworth High; St Agnes CE Primary; Greenfield St Mary's C of E Primary and St Thomas' Leesfield C of E Primary, in Lees, are also partners.
Friezland Primary School has been an Associate Partner of the DLP since 2017 when it was established as a 'Co-operative Trust'. On 1st May 2022, Friezland formally joined the DLP as a Foundation Member.
The decision followed a wide consultation process during which all relevant parties were consulted and consultation meetings were held for pupils, staff, unions, parents and the general public.  Statutory guidance was followed and the views of those consulted were considered by the Governing Body. All representations made in response to the consultation and statutory proposals were considered prior to the Governing Body deciding to proceed to implementation.
You can read the Determination Report HERE
Come and Join Our Trust: How can you be involved?
Our Partnership is a membership trust and we are keen to build an active group of members who can contribute to the DLP and support us in our vision and aims.
Pupils, staff and parents/carers are automatically members of our co-operative. For our potential community partners there is a requirement to actively join. We have a genuine commitment to our community being able to help shape the work we do as a Partnership.
You can find out more by visiting the DLP website: https://www.dovestonelearningpartnership.co.uk/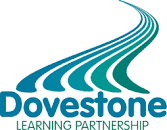 Get in Touch
For further information or general enquiries, please get in touch with any of the schools involved or email Julie Bowdidge (DLP Trust facilitator) at: juliebowdidge@googlemail.com