Friends of Friezland  
Friends of Friezland is a voluntary, open, friendly group of mums and dads. Our aim is to work with Friezland School to raise funds for the extras which the ever decreasing school budget does not allow for. We welcome anyone who wants to help or even offer new fund raising ideas for school.
Our aim is to host fun, community events for all the family. We need your support to continue with this vital fundraising which contributes towards things like the Kingswood trip, the pantomine visit, guests into school and equipment for our classrooms, which all our children benefit from.  Recent items we have been able to contribute toward include the following:
New furniture in class 1
Netball Hoodies
Lockers
Visitors for learning
Subsidize Brass and Kingswood
We can only achieve our targets with your help, so please come and support our events when and where you can. Even if it's collecting old clothes, curtains etc from friends, neighbours and family for our Clothes Line events. It really does make a huge difference!
Thank You again for your continued support.
Who are the Friends of Friezland committee:
Kay Clayton (Treasurer)
Jo Bardsley
Helene Betts
Vicki Broughton
Lucy Clarke
Rachel Dunkerley
Tina Dickinson-Rhodes
Tiff Eglin
Bev Hallworth
Anna Lancashire
Sarah Plevin
Rachel Power
Rachel Wood
New members are always welcome. The group can be contacted on the following email address: friendsoffriezland@hotmail.co.uk or members can usually be found on the school playground at drop off and pick up times.
The School Lottery
For your chance to win cash prizes, and to help raise money for your school, play the School Lottery. For more information visit www.yourschoollottery.co.uk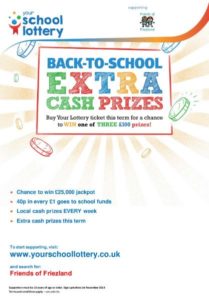 Here are a few of the exciting opportunities Friends of Friezland have given the children.
Please read our news and get involved in whichever ways you can … thank you.