Friezland Primary Governing Board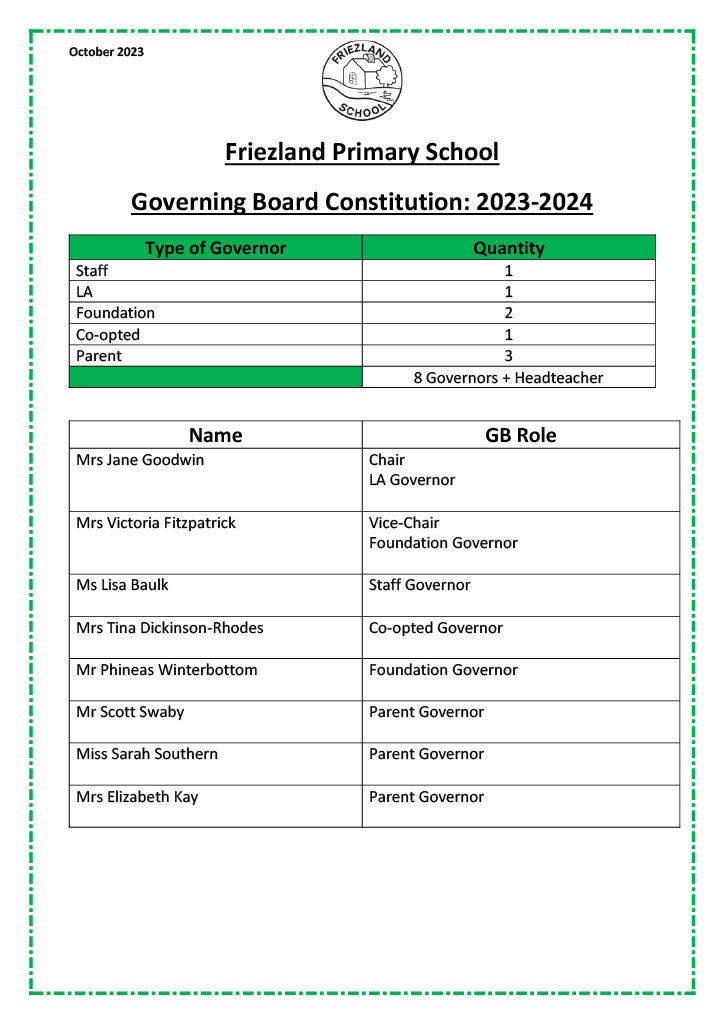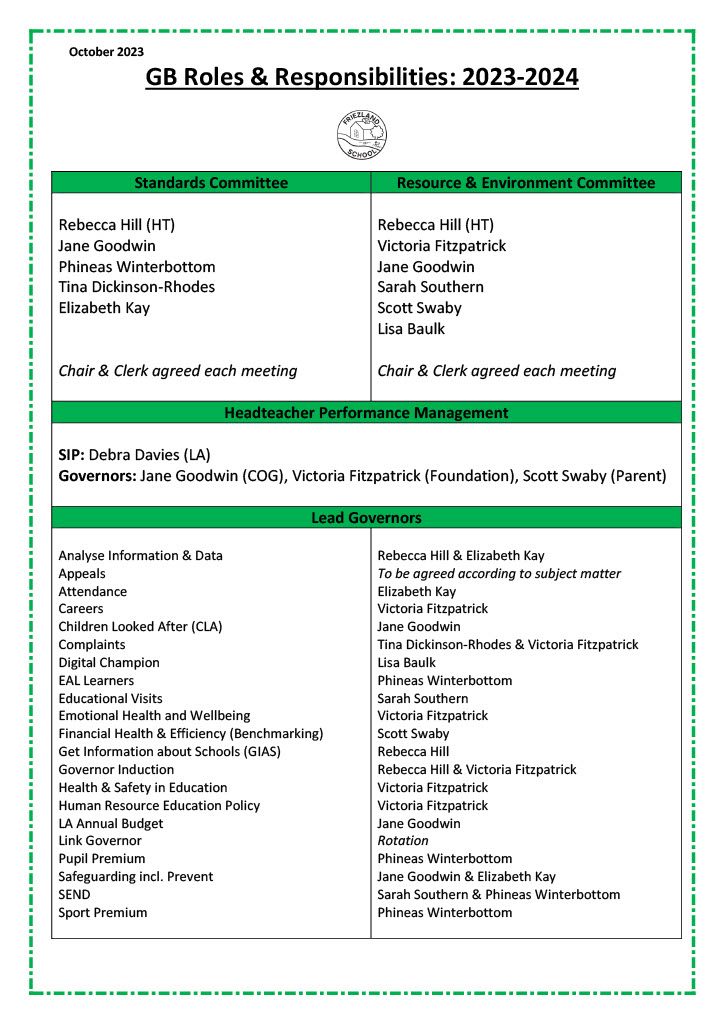 The Friezland School Governors make a positive contribution to the School by giving their time, expertise and experience, to help to shape the strategic vision and direction of the school.
The Governors support the school's commitment to provide a broad and balanced curriculum that engages all learners, regardless of their starting points and helps to prepare them for each and every stage of their education journey.
They work in partnership with the Headteacher and all staff, to raise the educational achievement, attainment and progress of all its pupils and ensure the safeguarding of both the pupils and staff.
All Governors are volunteers with a particular skill set that they willingly share with school staff.   Governors take their responsibilities seriously by: practically engaging with the school; challenging leaders to evaluate the impact of their management decisions; and evaluating school performance.
Having a diverse governing board, which is reflective of the community we serve, is important to us. We are in the process of collating governor information on a voluntary basis in order to establish if we are able to publish anonymised data (based on the number of returns) which protects individual identities and complies with UK GDPR standards.
About our Governing Board:
The Governing Board is made up of nominated representatives from:
The local community (Co-opted Governors are elected by the Governing Board)

The Dovestone Learning Partnership Foundation (elected by the Governing Board)

The local authority (Local Authority Governors are appointed by the Local Authority)

Staff representatives including teaching and support staff (elected by school staff)

Parent Governors (elected by Parents)

Associate Members (Associate Members are elected by the Governing Board)
The Headteacher also sits on Friezland's Governing Board.
All Governors are elected to serve for a period of four years. The Chair and Vice-Chair are elected in the Autumn Term by the Governing Board for a period of twelve months.
The Governing Board meets at least once a term, and further meetings of relevant sub-committees are also held at least once a term.
Safeguarding:
The Governing Board are committed to safeguarding and promoting the welfare of children and young people as we believe that this is of paramount importance.  Governors have undertaken training in Safeguarding as well as Safer recruitment training and all Governors have enhanced DBS Checks.
You can find further information on Safeguarding in the Safeguarding Section of this website as well as in the Safeguarding Policy.
The School's Designated Safeguarding Governor is Mrs J Goodwin and Mrs E Kay.
Contacting Governors
If you would like to get in touch with a Governor for any reason then please contact the School Office.
Interested in becoming a School Governor?
Click on the images and links below to find more information:
Becoming a School Governor