Meet the Headteacher
Miss. R. Swaby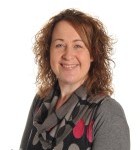 On behalf of our Governing Board, the staff and our pupils, I would like to welcome you to our website which will offer you a glimpse of all the exciting things that we offer at Friezland School. Our Mission Statement is simple; we are 'A Family Committed to Making a Difference'
Although we are one of Oldham's smallest primary schools, we set high expectations and our pupils achieve well in many different areas of school life. Pupils move on from us feeling prepared and ready to achieve even further because they experience a broad and balanced curriculum; effective transition arrangements; supportive families and governors; experienced and caring staff; pastoral support and most importantly, their own self-confidence and belief is strong.
I am very proud to be the Headteacher here and love working alongside the Friezland Team to ensure that we aim high and work hard to ensure the best outcomes for all our children, regardless of their starting points or abilities.
I hope you find the information you are looking for on our website. If not, please feel free to email: info@friezland.oldham.sch.uk or to telephone the office on 01457 872601.
Miss Rachael Swaby
(Headteacher)