DLP Multiskills
Well done to the Y1 and 2 pupils who represented Friezland School at the DLP Multi-Skill Festival this week. Mr. Freeman was very proud of our children who had at go at all the activities led by Saddleworth Sport Leaders-Well done! 
DLP Archery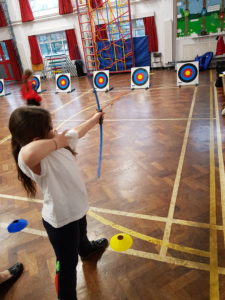 The first DLP Archery competition was held at Delph Primary School. All the children who attended worked really hard and improved their skills over the course of the afternoon. Well done Friezland! (Spring 2020)
DLP Football Match
This week the Friezland football team played a match against Delph. The team were victorious with a golden goal in extra time, winning 1-0. Well done to the team!

Oldham Cross Country
A team of 16 boys and girls represented Friezland this week at one of Oldham's Cross Country events. The team gave it their all and thoroughly enjoyed the run. A special mention goes to Carter who came 3rd in his age category- fantastic!
Thank you to Mr. Freeman and parents for coaching and transporting the teams to these events- we couldn't do it without your support. 
DLP Poetry Competition Presentation
Well done to our Class 4 pupils whose poetry was shortlisted in the DLP competition. The competition was entered by over 200 DLP pupils and the entries were of a very high standard. The presentation evening was very well attended and the DLP Brass Band even played- well done Woody! From the Friezland pupils who were short-listed, Amelie was our overall winner but we couldn't be prouder of you all!

DLP Netball Tournament 
On the 20th May our Netball Team represented Friezland in a tournament against other DLP schools. The team were awarded BRONZE. As always they were a credit to the school and demonstrated fair play values.
Swimming League Success 
 Well done to our Girls' Swimming League Team who competed on the 5th April. They were awarded SILVER in the final against other Saddleworth 7 Lees schools. The boys' team worked equally hard and came 4th overall. 
 KS2 'Just Dance' Competition
Well done to our KS2 Dance group who competed against 17 other Oldham schools and came second overall in the competition! We are, as always, very proud of you all. Thank you to Mr. McQuillan and Mrs. Adams for organising.
 
World Thinking Day

For World Thinking Day the children were invited to wear their club uniforms to help celebrate the special day.
Netball Team
Well done to our  netball team who won their match against St Anne's Lydgate this week, 14:3!  We are very proud of each and every member of the team!  Thank you to Mr. McQuillan and Mrs. Eglin for organising the team and supporting them with training.                                                             
 Oldham Football Finals
Our school football team represented us today in the Oldham Athletic Kids Cup Finals. The team were, as always, a credit to school. They supported one another well and demonstrated high levels of determination and resilience. Unfortunately, an overall win wasn't to be but the team did win two of their three matches. We couldn't be prouder. Thank you to Mr. Freeman for supporting the team.
    DLP Netball League
This week our netball team played in the decider match for the league trophy. The team played at home against St. Mary's Greenfield and unfortunately lost 6:9. We are extremely proud of the way in which the team has conducted themselves this season. Thank you to Mr. McQuillan and Mrs. Eglin who have organised and refereed matches in order to make sure we can compete.
                                                              DLP Netball Rally
Well done to out netball team who recently took part in the Dovestone Learning Partnership netball rally. The team won their mini-league and went on to play in the semi-finals against other DLP schools. The team looked great in their new kit and the hoodies, funded by the FOF. The team came fourth overall. Thank you to Mr. McQuillan and Mrs. Eglin for supporting the team.
Dovestone Learning Partnership Writing Workshop
The collaborative literacy project was the first to be ran by the DLP. Pupils and staff from Saddleworth School went to visit all the schools in partnership to inspire the children's imagination for a poetry competition. We were very lucky to have a winner here at Friezland.
World Book Day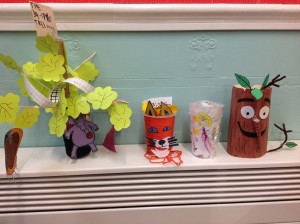 For World Book Day the children were asked to make a 'character cup' to represent their favourite book character. The winners received a book prize from Friends of Friezland.