Competitions, Leagues and Festivals
Sports News
School Games Award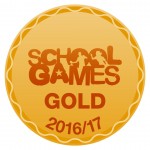 We are delighted to announce that we have maintained our Gold School Games Mark Award for the 3rd year. This is awarded for our contribution to school PE and Sport. Well done to everyone involved!
Health Champions 2017
Congratulations to Martha Wood and Elizabeth Cassidy-Davies  (Year 4) who have been selected to be our Friezland Health Champions.  They will take part in a number of training sessions over the next few terms, delivered by Oldham School Sports Partnership in affiliation with other providers, to compile an action plan and deliver health messages and disseminate training back to staff and pupils at school.  A big thank you to Mr Freeman, who will be supporting our pupils to do this.
Swimming
The friezland girls' and boys' swimming team competed in the Saddleworth Swimming League finals on Tuesday 25th April. All swam fantastically well as individuals and also as in relay teams. The girls placed 2nd and boys placed 3rd.
Tag-Rugby
Well done Team Friezland for representing Oldham at the Greater Manchester Games. We just missed out on qualifying for the semifinals, however, the team should all be proud of their fantastic efforts. Thank you to Mr Jagger and Mr Cookson for helping to coach the team and dedicate their own time and to the parents who came to support us on the day.
Dance
Well done to our Dance troop who competed against 30 other schools in the Oldham Borough Dance Competition at Oldham Academy North on Tuesday 28th March 2017.  They looked and acted the part, performing a strong routine.  Thank you to Mrs Adams for organising the choreography and kit and to Mrs Moores and a number of our parents for accompanying the team on the day.