Meet the Friezland Teaching Staff
Reception Teacher
Mrs. C. Butterworth
I have been teaching at Friezland for 16 years after completing a Geology degree and a PGCE in Early Years.    As well as teaching my other roles in school are Science, Design and Technology, Geography and History, Forest Fun and Early Years Co-ordinator.   These are areas of particular interest to me and I enjoy the opportunity to further develop my skills within these subjects throughout school.
I am married with 1 child and live in Shaw with our cat called Molly.   I enjoy playing the violin, reading, paddling in the sea (if its warm) and cross stitching!
Class 2 Teacher
Mrs. G. Wilson
I came to Friezland as a supply teacher in September 2015 and enjoyed it that much I am still here! Now I teach Years 1 and 2, and I am the subject coordinator for Music, RE, Collective Worship, Eco and Healthy Schools. I began my career as a Music specialist teaching in secondary schools and play the trumpet, piano and cello. I am married with two children and have a dog called Bailey. In my spare time, I like to read, listen to music, go to the gym and I am currently training to become an Advanced Driver.
Class 3 Teacher
Mr. A. McQuillan
I am currently covering Class 3 while Miss Hodgson is on maternity leave. After completing my four year training at Edge Hill University, I have been a teacher for the previous twenty seven years. In addition to my teaching role, I am the Mathematics and P.E coordinator.
I live locally in Stalybridge and am married to Anita. We have three children and a rabbit.
In my spare time, I enjoy watching Manchester City and my two sons playing cricket for their clubs.
Miss. F. Hodgson 
I started teaching at Friezland after completing my 4 teacher training degree at the University of Chester from 2004 - 2008.  During my time at Friezland I have taught in Key Stage 1 and 2.  In addition to my class teaching roles, I have been the Primary Link Teacher for the Saddleworth Cluster, co-ordinated school PE and Sport, Art and recently Numeracy.  
Class 4 Teacher
Miss. R. Hill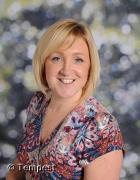 I joined Friezland in 2016 after working as a teacher in London since 2007. I have worked across Key Stages 1 and 2 and co-ordinated many subjects including Maths and Science. I currently teach Year 5 and 6 and, alongside my responsibilities as Assistant Headteacher, I co-ordinate English, Computing and MFL, and am a Staff Governor. Having been a Friezland pupil myself, I feel proud to be a member of the Friezland family. In my spare time, I enjoy playing sports and like to travel around Europe to visit friends and family.